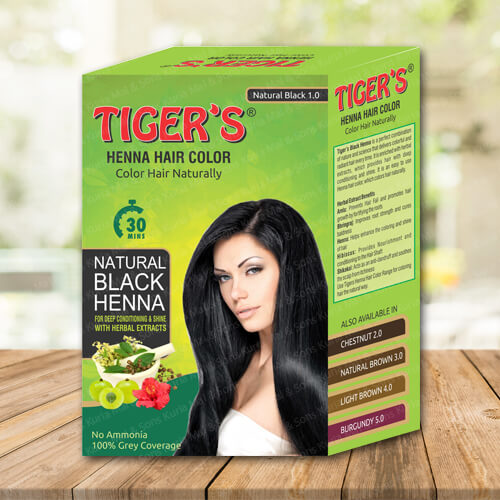 Do you fancy gorgeous and drop-dead hair color look but without dying them? Instead of using harmful dyes which are nothing but chemical-loaded products, you can opt for extremely rich and nature-based hair color. "Kuria Mal & Sons" is an eminent name in Saudi Arabia with its brand name 'Tiger'.
Tiger Natural Black Henna is a flawless fusion of scientific experiments and natural ingredients. It has been organically cultivated and refined to fine powder, making it extremely healthy and reliable to use. Our products are of premium quality and manifest true and desired color when applied correctly.
We are one of the famous manufacturers of Tiger Natural Black Henna in Saudi Arabia who follow every required international production parameter and standard to showcase the impeccable qualities of our hair care products. Our quality checkers check every aspect related to quality to ensure the genuine purity and effectiveness of the products.
Features:
Revitalizes the scalp to deep down the roots.
Imparts shine and makes hair dense.
Ammonia and Paraben-free.