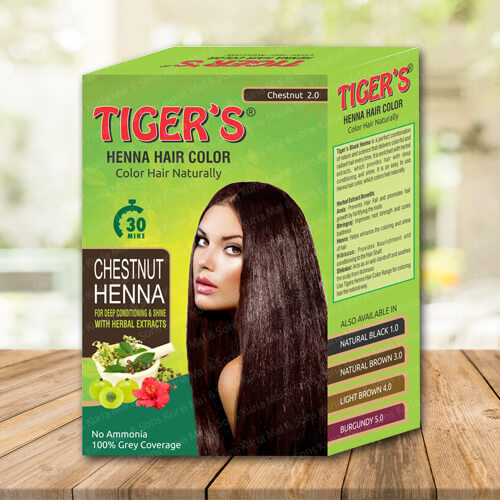 A natural solution to your grey hair
If you have got bored with your regular brown shade, then chestnut henna is a good option for you. If you are up to experiment with some new shades, then Tiger's Chestnut Henna is worth giving try. The product is a natural henna color, which gives your hair gorgeous and lustrous Dark-brownish hue.
A unique formula of herbal chestnut henna hair color is straightforward to use and offers a long-lasting effect. Without Ammonia, Parabens & Sulphates it sticks to your hair, strengthens the roots, and prevents hair fall.
The henna is easy to apply and gives you an exclusive look. The herbal henna powder has been manufactured with comprehensive research and has passed various tests to provide you with safe and natural hair color.
Features
Available at reasonable rates
Exclusively formulated with natural herbs and ingredients
Exquisite Dark-brownish shade
No side effects
Benefits
Has anti-fungal and anti-bacterial properties
Provides UV protection
Smoothens and conditions hair
Strengthens hair, giving them a fine protein treatment
Prevents itchy scalp