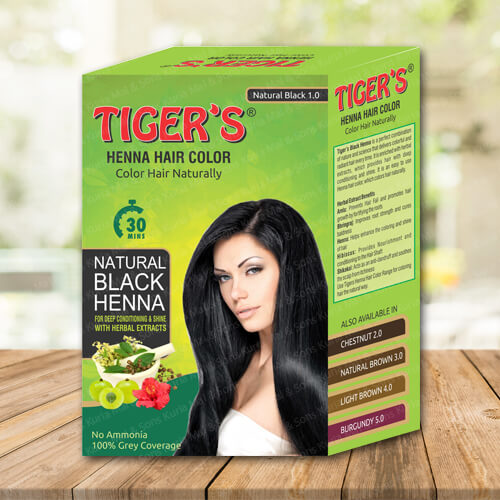 Give your hair a bouncy black look
Silky black hair is making waves these days! People of all age groups especially middle-aged men and women are desperately looking for something which can bring back their healthy and naturally-looking black hair.
The Tiger's Natural Black Henna is quite natural and safe to apply on hair. It subtly nourishes your hair, converting grey hair to black ones, giving a luscious look to hair and the scalp. With a strict no harsh chemical inclusion, this naturally formulated black herbal henna powder enriches hair with the required color, texture, and nourishment.
Its natural ingredients such as Indigo with Natural Henna and Amla (gooseberry) make your hair super thick, shiny, and bouncy.
Features
Easy and safe to use
Controls dandruff
Comes with ammonia-free formula
Offers a natural black shade
Prepared using herbal leaves and berries
Benefits
Restores hair vitality and maintains PH value of the scalp
Detangles hair, making them frizz-free and smooth
Provides lustrous and natural black shades besides fortifying hair roots
While conditioning, it scrubs all types of impurities from the scalp